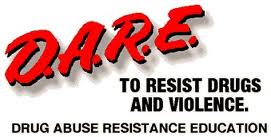 The D.A.R.E. program enables students to interact with Florissant Police Officers in a controlled, safe, classroom environment. This helps students and officers meet and understand each other in a friendly manner, instead of having to meet when a student commits a crime, or when officers must intervene in domestic disputes and severe family problems. The Surgeon General reports that positive effects have been demonstrated regarding attitudes towards the police.

It is also an important tertiary crime and violence prevention education program. The D.A.R.E. program cites cases where assertiveness and self-defense education helped prevent students from being harmed. D.A.R.E. officers also help schools when children are threatened, and their presence helps alleviate concerns about situations like school shootings and other threats of violence to children while at school.

Florissant Police Officer L Summers teaches D.A.R.E. to approximately 1,000 fifth graders over the course of a school year. Officer Summers said, "When I teach D.A.R.E. I concentrate on teaching the kids to make the RIGHT decision, and the consequences of making the wrong decision." The D.A.R.E. Officer talks about how to be in charge in certain situations, peer pressure, tobacco, alcohol, and marijuana facts, and friendships.