Florissant Police Seeks Public's Assistance with Fraud Investigation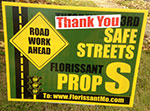 MSD will be closing the right lane of northbound St. Ferdinand between St. Marie and Harrison Street for an emergency sanitary sewer replacement project on Monday October 19th. This project will last approximately 2 months. Please plan accordingly for traffic back-ups, and use alternate routes.
Whether you have lived in Florissant since you were a child or are planning a future here for your children, we hope you will find our website a fun and informative portal to our community.

Florissant is a community of over 50,000 people situated in North St Louis County. It is a progressive and thriving town with a reputation for being 'warm & friendly.'

Florissant offers many wonderful services and a wide variety of amenities for residents of all ages from toddlers to Senior Citizens. It's one of the safest cities of its size West of the Mississippi River.

Whether you're here for a day or a lifetime, this is a great place to be!